Field Brothers Farms brings proven business principles to agriculture. We produce crops on several thousand acres of land, using superior marketing; while being aggressive and progressive in the growing operation. Through professionalism, pride, excellence and mutually beneficial relationships; we strive to be the operation of choice for landowners.
Superior Management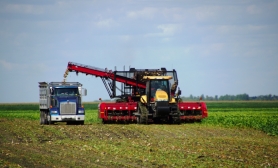 Field Brothers Farms is staying ahead of the game by utilizing financial benchmarking, cost analysis, and superior marketing through advanced hedging strategies.
Financial Benchmarking through the use of ratio analysis ensures we are competitive in the marketplace and offers insight into areas that need improvement.
Cost Analysis is essential for our margin management. We use several marketing tools such as futures, options, spreads, HTA and basis contracts to enhance our margins whenever possible.
Forward Thinking
Field Brothers Farms was one of the first to use an outside agronomist to provide scouting, soil sampling, and VRT mapping. Furthermore, we recognized corn would be the crop of the future and invested in a large grain storage facility, renting out excess storage until it would be needed ourselves.